Archive
November 25, 2011

The Friends of the Johnson City Public Library have announced in their Fall newsletter that Keith will be the speaker at their February 2012 Brown Bag Event. Page 1 provides the information as to time and place, etc. and there is also a review of Three Devils Dancing by Wendy Oliver (JCPL Friends Board Member) on page 2.
Click HERE to view the newsletter as a PDF file.
Review from Dew on the Kudzu

Three Deuces Down
Author: Keith Donnelly
Publisher: Court Street Press
Publication Date: 2008
ISBN: 978-1-58838-227-6

Three Days Dead
Author: Keith Donnelly
Publisher: Hummingbird Books/Harrison Mountain Press
Publication Date:2009
ISBN: 978-0-89587-372-9

The Dew reviewed Keith's latest installment in this series in May of this year. http://dewbookreviews.blogspot.com/2011/05/three-devils-dancing.html

We were impressed enough to request the first two installments. I stated in my review that what I enjoyed was that I actually liked his detective Youngblood and he didn't appear to be the usual incredibly messed up in the head character with a growing dark side that is so prevalent in these tales. Really, you can't help but like a guy who has a standard poodle as his dog. I also stated that I had hints to earlier episodes making him more cautious in his life and dealings.

Well, here are the earlier issues!

The first book, Three Deuces Down, explains how Donald Youngblood leaves Wall Street to return home Tennessee and become a P.I. with his pal Billy Two Feathers. They poke along with little jobs for a while until a big case falls in their lap to be solved. But wait, were they picked to solve the case, or because no one thinks they actually will. What really is behind this crime and who's actually trying to help them? More importantly, who's trying to stop them?

In book two, Donald is asked to track down a missing mom. The requestor is a teenage daughter without a place to live. So we have a nice human interest element in a possible murder mystery and Donald finds himself trying to settle the teen in a safe place at the same time as finding her mother……… if her mother is still alive.

This is a good crime/drama series that keeps you invested in the characters themselves, not just the final 'whodunwhat".

See the review at its source by clicking HERE.
Review from Dew on the Kudzu
Three Devils Dancing
Sunday, May 29, 2011

Three Devils Dancing
Author: Keith Donnelly
Hardcover: 296 pages
Publisher: John F. Blair, Publisher (November 3, 2010)
ISBN-13: 978-0895873989

This is the third book in Keith Donnelly's Youngblood crime mystery series.

What jumped out at me was that I really liked the characters in the book. Well, the good guys anyway. Usually in mystery novels, the lead character is filled with anger and angst and everyone surrounding them have deep issues and mental scars.

While the characters are real in that they do have issues, they're all people you wouldn't mind hanging out with for a couple of hours at a BBQ. To me, that allows a book to become much more interesting because you care a little more about what happens to everyone.

Donald is working on making a name for himself as a private investigator. This book intimates that he's had a few close calls in the previous stories (the Dew has not reviewed them) and that he's become a little more cautious than usual in his work. He has a new family unit, with his girlfriend and a young girl, not related, living with him and he wants to ensure their safety.

But when he takes on two cases at the same time - one a young girl's murder and the second a baby kidnapping - things become more complicated. He finds himself in the limelight with a killer getting ticked off at him while at the same time having a favor being called in by one of the biggest drug runners in the state.

Will Donald solve a murder, a kidnapping and pull off a favor, all without ending up in prison or dead?

Read and find out!

See the review at its source by clicking HERE.
ETSU Today Spring 2011 Article



To view the article in context, check out the full ETSU Today Spring 2011 E-zine by clicking HERE. Keith's article is on Page 18.
Friends of Library Welcome Author
By LEIGH ANN LAUBE
lalaube@timesnews.net

Keith Donnelly, author of the Donald Youngblood detective series, will be the featured speaker during the Friends of the Kingsport Public Library's annual meeting.

The meeting will begin at 6:30 p.m., Tuesday, in the auditorium at the Kingsport Center for Higher Education, 300 Market St., in downtown Kingsport. There is no cost to attend.

Donnelly will speak after after a brief business meeting to elect new officers and set a budget.

"This [annual meeting] is a way to do two things," said Paul Hopkins, FOL past president. "It provides Friends of the Library and others with the chance to hear an author. It also encourages membership to the library." The mission of the Friends of the Kingsport Public Library is to support, promote and enrich the Kingsport Public Library in providing services and opportunities to the community. For the last several years, the FOL's membership has hovered around 300, which represents around 750 individuals.

Donnelly, who grew up in Johnson City and makes his home in Gatlinburg, has written three Donald Youngblood mysteries, "Three Deuces Down" (2008), "Three Days Dead" (2009), and "Three Devils Dancing."

He's currently working on his fourth book, and his goal is a new Youngblood book every 18 months.

Donnelly, who is married to the former Tessa Marshall of Kingsport, is a Science Hill High School graduate who earned a degree in economics from East Tennessee State University in 1967. After graduation, he joined the Kingsport Press' management training program. Through the years, he changed jobs a couple of times, but always remained in the book manufacturing business. Much of his time was spent in Manhattan with The Maple-Vail Book Manufacturing Group. That company sent Donnelly to Gatlinburg to open a Southeast sales office. Donnelly retired from Maple-Vail in 2009 and now writes full-time.

In the past, Donnelly has participated in local book fairs, held book signings and spoken to members of the Kingsport Civitan Club. Today, he will speak to marketing, criminology and creative writing classes at Dobyns-Bennett High School.

For more information on Donnelly or his series, visit www.donaldyoungbloodmysteries.com.

View the article in full by clicking HERE.
Three Devils Dancing by Keith Donnelly
Posted on December 24, 2010 by Dru

Three Devils Dancing by Keith Donnelly is the third book in the "Donald Youngblood" mystery series. Publisher: Hummingbird Books, December 2010

After the Malone case nearly got him killed, ex-Wall Street whiz kid and private investigator Donald Youngblood wants just to settle down with his new ready-made family and watch the world go by.

Not likely.

A young woman with a mysterious tattoo turns up dead at a local lake, and the girl's father persuades Don to look into her killing. Soon afterward, a three-year-old girl gets kidnapped. The girl's mother, wanting to avoid police involvement, convinces Don to look for her daughter, leaving him with much more than he bargained for.
Who took the little girl, and why?

Is the tattoo on the dead girl a significant clue or just skin art?

Playing a deadly game of cat and mouse with an insane serial killer while trying to fulfill a promise to a ruthless drug dealer, Donald Youngblood, with help from partner Billy Two-Feathers and new ally Oscar Morales, pursues his most cunning adversary yet.

What a great story. When a young girl is found dead and similar cases are connected, Don knows this is the work of a serial killer. Don has his hands full with two other cases that need his attention, but the murder of this young teenager and finding her killer is his main priority. From the moment I started reading, I could not put this book down. With a well-written story and more defined characters, this fast-action read kept me turning the pages. I love this series because I always finish with a smile. This was an enjoyable read that will leave you wanting more. My rating: 5 stars

-Posted on Dru's Musings, a WordPress blog. View the original review HERE.
Midwest Book Review - Three Devils Dancing - December 3, 2010

The need for a clear thinking mind is a demand that will never be met. "Three Devils Dancing" follows Donald Youngblood, a private investigator who wants to leave murder and crime behind him. A girl turns up dead at a lake and Donald's only lead is her unusual tattoo, and Donald is unsure if that is even relevant. In the pursuit of a killer, Donald only has so much time. "Three Devils Dancing" is a fast paced and riveting read that should prove hard to put down.

Taken from Amazon.com
Kingsport Times Article - November 28, 2010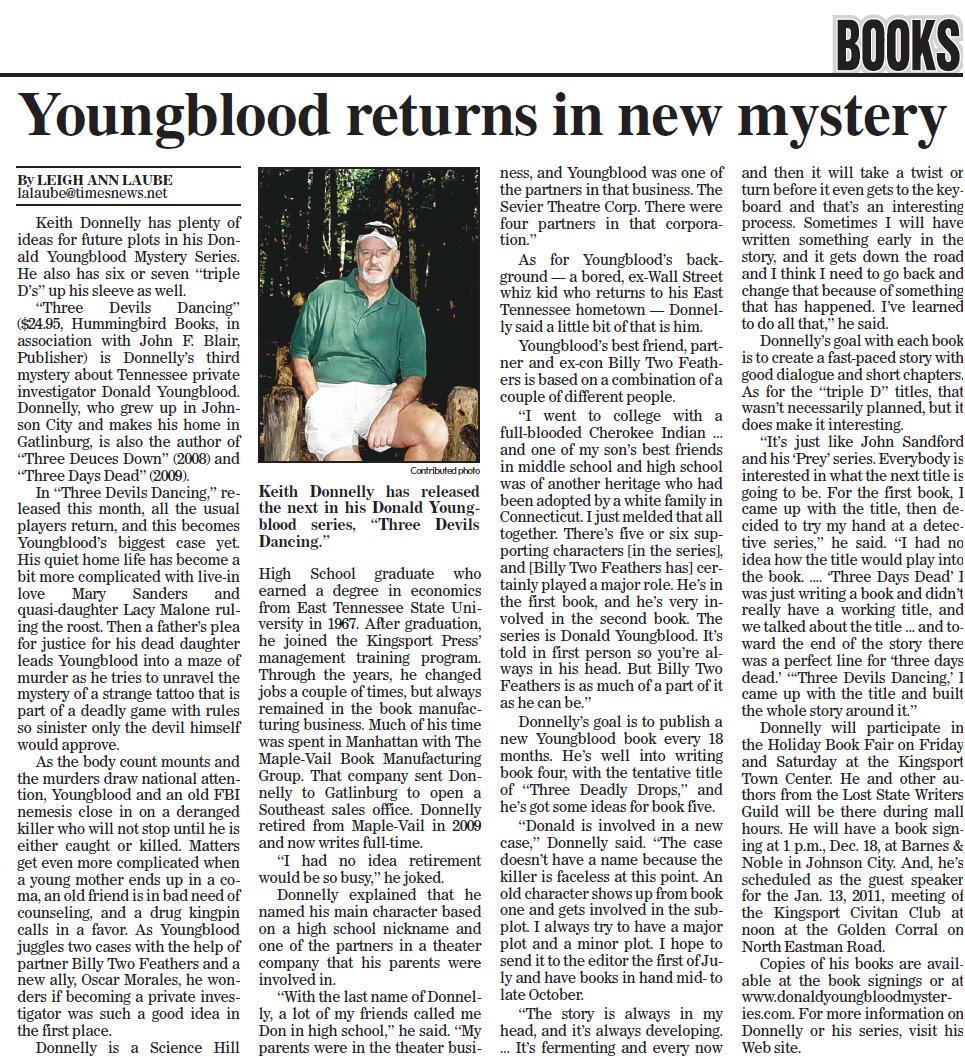 Click on the photo to view the article full-size in JPG format.
Click HERE to view the page as seen in the Kingsport Times as a PDF file.
Midwest Book Review - Three Days Dead - November 8, 2010

Following a faint trail can prove tiring, even for the most seasoned investigator. "Three Days Dead" is the story of private investigator Donald Youngblood. Trying to reel in his life after finding love, he's sent on a wild chase to help find a young woman's lost mother and soon finds that this isn't just a simple missing person case, but there's so much more that lies under it all. "Three Days Dead" is a fun and exciting read, highly recommended.

Taken from Amazon.com
Mountain Press Article - October 15, 2010


Click on the article to view it in full-size in JPG format.
Click HERE to view Page 4 (Article Conclusion) full-size in JPG format.
Click HERE to view Page 1 as seen in the Mountain Press as a PDF file.
Click HERE to view Page 4 (Article Conclusion) as a PDF file.
Elizabethton Star Article - September 26, 2010


Click on the article to view it in full-size in JPG format.
Click HERE to view the article as seen in the Elizabethton Star as a PDF file.
Cable Country Videos
Keith has appeared twice on Tim Cable's "Cable Country."

To see Keith discussing Three Days Dead (Filmed at the Park Grill in February 2010), click HERE.

To see Keith discussing Three Deuces Down (Filmed at Maple Vail Office in 2008), click HERE.