MENU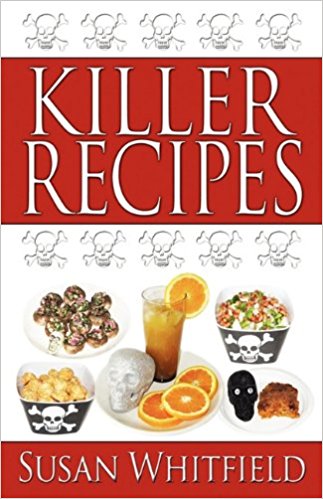 Killer Recipes - Available NOW!

FIVE of Donald Youngblood's favorite recipes are included! (Including Don's Caesar Salad, located at the bottom of this page.)

Mystery Writer Susan Whitfield's Killer Recipes is a collection of real family recipes, not only from her kitchen, but also those of other mystery writers. Some selected recipes they think their main characters would enjoy. All recipes included in this volume were submitted by writers and used with permission.

Over 200 pages in this oversized paperback book!

All proceeds from book sales will be donated to The American Cancer Society.

Available now for purchase at amazon.com and BarnesandNoble.com.


~*~

Killer Recipes: Expanded
Here's a taste of what you can expect to savor in Killer Recipes, in stores now.
The Donald Youngblood Mystery recipe sampler includes: Clandestine Cheese Puffs, Walloped Black Jack Pie, Don's Caesar Salad, Mountain Center Diner's French Fry Casserole, and Mary's Country-Style Backbones.

DON'S CAESAR SALAD
Hearts of Romaine lettuce (washed, dried, and broken into small bite-size pieces)
Cardini's bottled dressing- the original Caesar dressing (or your own favorite)
Aged Italian Parmigiano Reggiano cheese block
Homemade croutons (see below)
Freshly ground black pepper
One anchovy
SALAD PREP: Grind anchovy around the bottom and sides of a jumbo salad bowl deep enough for tossing lettuce. Remove any anchovy pieces. Put lettuce pieces in the bowl; add just enough dressing to lightly coat the leaves, toss gently. Grate or slice fresh cheese in large slivers into bowl along with croutons, being sure to crush a few croutons into crumbs to spread through the salad to enhance flavor. Gently toss; add black pepper before serving. Adding tiny bits of anchovy is also an option.
HOMEMADE CROUTONS: Preheat oven to 350 degrees. Any bread that is not extremely fresh will do; in fact a variety of bread makes better tasting croutons! Cut into desired size cubes to make about 4 cups. Melt ½ stick of butter and mix with 1 TBLSP of Lawry's Pinch of Herbs Classic Herb Blend. In large bowl, toss cubes and butter mixture until coated. Spread bread cubes on cookie sheet and bake for 10 to 15 minutes, until browned and crusty. Spread on absorbent paper to cool.

MARY'S* COUNTRY STYLE BACKBONES
Choose pork backbones that are thick, lean and meaty with bone in. Boil gently in just enough water to cover. Boil until tender, but not falling off the bone.
Arrange ribs in a shallow pan and baste with sauce*. Bake at 400 degrees for 15 minutes, turn and baste again, then continue baking for 15 minutes more. Place under broiler for a few minutes for added crispness.
You can also baste ribs and cook on outdoor gill until warmed through and crusty.

*SMOKY MT. BBQ SAUCE
1/2 C ketchup
1/2 C chili sauce
1/3 C honey
Colgin Liquid Smoke hickory smoke flavoring to taste
Cook's tip: To make a quart of sauce, mix a 12 oz bottle of ketchup, a 12 oz bottle of chili sauce and an 8 oz bottle of honey. Add Liquid Smoke to taste. Keep refrigerated.

For the full menu (including a dessert that's to die for), check out Killer Recipes, available for purchase at amazon.com and BarnesandNoble.com.






This page last updated on: 01/16/2016

Website created using Microsoft Expression Web 2.
It is best viewed in Internet Explorer 8.0.